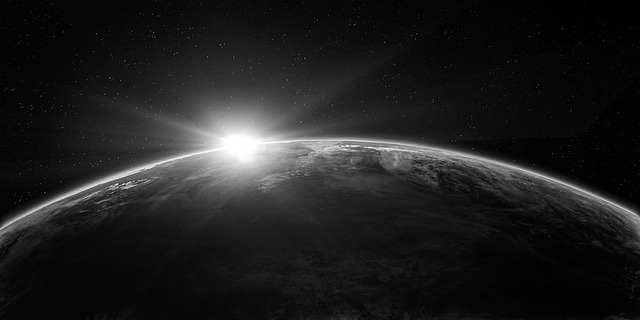 This blog will be my second discussion topic (DT) for use in home church gatherings. I have found understanding these DT's hugely influential over the course of my Christian walk and I pray they will help you to 'have a reason for the hope that is in you' (1 Peter 3:15). In this one I'm going to look at what the Bible says about the age of the earth. It will answer the following question:
Where does it say in the Bible that the earth is only a few thousand years old?
There is no Bible verse that says, 'the earth is xx number of years old'. To find out the age of the earth according to the Bible requires some basic mathematics and a bit of detective work.
The obvious place to start is Genesis chapter 1 where God created the heavens and the earth. In chapter 1 we see that God takes 6 days to complete the creation of the earth.
I know a lot of people that believe that the world was created by God through the process of evolution. They believe that the 6 days of creation are not literal days because 2 Peter 3:8 says that 'with the Lord, a day is like a thousand years, and a thousand years are like a day.'
I don't accept that because at the end of each of the 6 days in Genesis chapter 1, it says 'there was evening and there was morning', signifying the end of each day.
When you have evening and morning, it sounds like one day to me.
I know that in the Jewish culture, sunrise signified the end of a day which is why they have evening first and then morning. Regardless of what order you have the morning and evening, it is very hard to argue that one evening and one morning can occur over thousands of years.
The next place to look is at Genesis chapter 5. This gives us the names of the first 10 generations of the earth and also how old they were when they birthed the next generation. I will list the names and their ages when they became fathers here.
Adam 130
Seth 105
Enosh 90
Kenan 70
Mahalalel 65
Jared 162
Enoch 65
Methuselah 187
Lamech 182
Noah 500
Shem (Noah's first son).
When we add up the numbers above, we find out the following:
The total number of years from Adam to Noah's first son is 1,556.
Then if we flick over to Genesis 11:10-26, we see another list of men and the ages that they gave birth to their first son. Again, I will list them below.
Shem 100
Arphaxad 35
Shelah 30
Eber 34
Peleg 30
Reu 32
Serug 30
Nahor 29
Terah 70
Abraham.
Doing some basic sums, we find out the following:
The number of years from Noah's first son to Abraham is 390.
The interesting difference between this list and the first list found in Genesis 5 is the age at which these men became fathers. Before the flood the average age was over 100. After the flood, it was closer to 30.
The reason for this is that before the flood, people lived a lot longer than they do today. Genesis 6:1-3 explains God put an age limit of 120 just before the flood because of the evil that they were doing. God didn't want to have to put up with them for longer than that. This explains why they give birth sooner than before the flood.
Now we will flick over to the New Testament. The third chapter of Luke (23-38) contains a list of names from Adam to Jesus. The names listed from Adam to Abraham are exactly the same as the names in Genesis chapters 5 and 11. We also have 56 further names from Abraham to Jesus as below.
Abraham, Isaac, Jacob, Judah, Perez, Hezron, Ram, Amminadab, Nahshon, Salmon, Boaz, Obed, Jesse, David, Nathan, Mattatha, Menna, Melea, Eliakim, Jonam, Joseph, Judah, Simeon, Levi, Matthat, Jorim, Eliezer, Joshua, Er, Elmadam, Cosam, Addi, Melki, Neri, Shealtiel, Zerubabbel, Rhesa, Joanan, Joda, Josek, Semein, Mattathias, Maath, Naggai, Esli, Nahum, Amos, Mattathias, Joseph, Jannai, Melki, Levi, Matthat, Heli, Joseph, Jesus.
It becomes a bit trickier to do our basic mathematics now because with most of these men named, we have no record of how old they were when they gave birth. Genesis 21:5 says that Abraham was 100 years old when he gave birth to Isaac but we don't know much about the rest of the men. As previously mentioned we can see that after the flood, the average age of fatherhood was approximately 30 years of age. Applying this age to the 56 generations from Abraham to Jesus gives the following:
The number of years from Abraham to Jesus is approximately 1,680.
Now we need to figure out how many years it has been from Jesus to today. Jesus didn't have any children, so we can't trace his lineage. But we do know how many years it has been since he was born. It is the same number as the year we are in now. 2018 A.D.
If you are confused why we start counting years from the year Jesus died because you believe that 'A.D. means after death', I will explain why. The letters A.D are actually a Latin phrase – Anno Domini. In English this means 'year of our Lord.' So we started counting the years from when our Lord, Jesus was born. That is year zero. Now we are in the year 2,018.
So we have 1,556 years from Adam to Shem, 390 from Shem to Abraham, 1,680 years from Shem to Jesus and 2,018 years to today.
Adding those four together gives you 5,644.
Note that even if we stretch out the average of fatherhood from Abraham to Jesus to 40, this still only gives 6,214 years. This is nowhere near the 4.5 billion years that scientists will tell you that the age of the earth is.
Feel free to discuss this and post your comments. This blog is not designed to find out the exact age of the earth. It is simply done to show that the Bible does talk about how old the earth is and it is very different to the 4.5 billion years that scientists believe the age of the earth is based on evolution.