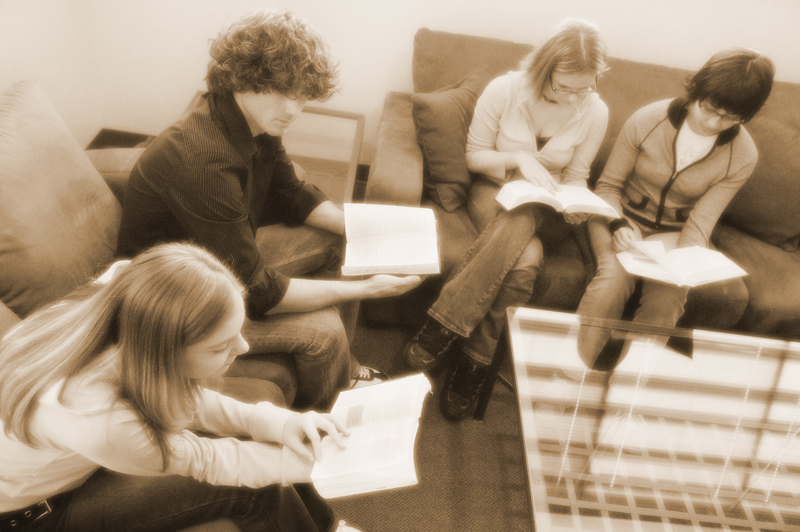 I frequently have people contacting me through our website asking me if there is a home church in their area they can join. They have obviously heard about home church somehow and like the idea of it and want to get involved. I would love to be able to point them to one they can join, but the reality is that I don't have a huge list of home churches. The reason for that is simple.
There simply aren't enough home churches currently running.
I would love to be able to put up a map showing where all the home churches are so people can get in touch with the organiser directly and I may do that in the future. In the meantime, I encourage people to start their own home church!
It's really not that hard. You don't have to be registered, there are no forms to fill in and no pastors to pay. The only thing you need is to be passionate about following Jesus and willing to share your life with others as you do it. You don't even need a home! You could meet up with other like-minded people in a café, a park or the beach.
Let me explain this further by looking at some of the key differences between traditional church and home church in the bullet points below. I look at these in more detail in my book 'Why I Love Home Church', but here are the basic points: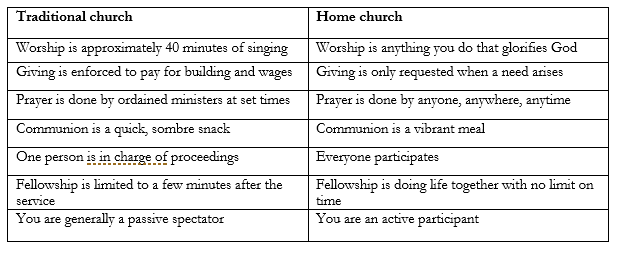 The last point is the key one I want to talk about. Many Christians have been passive spectators in church for so long that they don't know how to be actively involved with other believers outside of a controlled environment.
The best way to break the chains of passivity is to start your own home church.
Do you know 2 or 3 like minded people you can gather with? Then simply invite them over for a meal or meet with them somewhere convenient for everyone. Have a conversation with them about how they are going with God, whether good or bad. Pray with them, praise God together, read the Bible together and encourage each other to be like Jesus. Throw in some outreach and giving to the needy and you are already more effective than a lot of churches.
Another important thing to know with home church is that quality is more important than quantity.
It's better to meet up with 2 or 3 people who are committed to growing in their faith than 20 people who are half-hearted. Don't worry if there are only 2 or 3 of you meeting up. If your faith is growing each time you meet up, it is worthwhile. The reality is that most home churches regularly meet with less than 8 people. If you have more people then you lose the closeness you get with fewer people.
The key to growth is not by addition but multiplication
What this means is that instead of adding people to an existing church, it is better to multiply churches by creating new ones.
Let me show you a comparison which may help you understand.
Let's say that one person decides to start a home church so invites another person to share a meal with them. They regularly gather together for one year for training and discipleship. The next year each of those people then decide to disciple another person. Each person trained continues this for the rest of their lives.
After one year you will have two people discipled, after two years there will be four, after three years there will be eight people, after four years there will be 16, etc. If this continues for just 33 years, then over 8.5 billion people (the entire world population) will have been discipled. (Note that this example assumes that everyone disciples another person each year and that there are no breaks anywhere.)
Compare this to the traditional church model of addition. They might start with 20 members meeting in a home then decide to build a church which takes a year. In the first year lets say 200 people have joined but 20 have left. That will mean 180 people have been added. If the same happens over the next three years then you will have a church of 620 people after four years. To this point the results are better than the house church model, but the difference is that the house church is multiplying whereas the traditional church is adding. After 33 years of 'adding' people, the traditional church will only have a total of around 6,000 people. This is less than the population increase over that time in most towns.
The kingdom of heaven needs to grow rapidly if we want to see Jesus return. Addition is too slow so we need multiplication.
I encourage everybody who is interested in home church to start one themselves!
Don't be afraid to make mistakes! If you have any questions along the way, please feel free to ask.