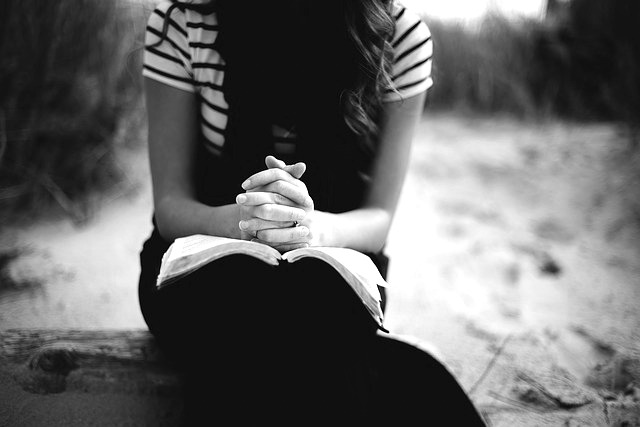 This blog will be my third discussion topic (DT) for use in home church gatherings. I have found understanding these DT's hugely influential over the course of my Christian walk and I pray they will help you to 'have a reason for the hope that is in you' (1 Peter 3:15). This one I'm going to look at will answer the following question:
How do I hear from God?
Here are seven main ways that God can speak to us and also my experiences with each of them.
Audibly.
Sometimes God speaks to people in a clear audible voice. It is incredibly rare and I have only ever heard it once. Not long after I became a Christian, I decided to focus on loving the Lord with all my mind. So I started reading the Bible more seriously. Up to that point I would just read a few verses here and there. The night that I made this decision I read at least four chapters and then later that night I clearly heard God's voice say to me, "I'm proud of you son."
Visions.
A vision is where you see a clear supernatural image or scene while you are awake. I have them occasionally and one that sticks out was a vision I had just before I became a Christian. Before that time, I knew it was the right thing to become a Christian, but I kept putting it off because I didn't want to be one. I saw Christians as 'little old ladies' of either gender who just drank cups of tea and ate cake. Then I had a vision of myself standing before God in judgement. He said to me, "I kept reaching out to you and offering you help, but you kept refusing me. Why?" I imagined my answer being, "Because I didn't want to be a Christian." Then I saw the mighty hand of God pointing downwards. It was not long after that I got right with God by accepting Jesus as my Lord and Saviour.
Dreams.
"If God can't get your attention during the day, he'll do it at night." That was a quote from a sermon I heard once. It's been true for me. The times when I've been so busy doing my own things and not concentrating on doing God's things, were the times when I most frequently received dreams from God. Sometimes they were very vivid, but more often than not, they were full of imagery, which I didn't always understand. A lot of the times, though, they were about specific people, so it seemed clear to me that the Holy Spirit wanted me to share the dreams with those people. Sometimes they knew straight away what the dreams meant, sometimes they didn't.
Prophecy.
This is the first way where God speaks through our fellow man. It is another person speaking words over you declaring the purposes of God. It could be encouragement or it could be rebuke. It could be from someone you trust or from a complete stranger. The advice from the Bible is to "not treat prophecies with contempt but test them all" (1 Thess. 5:20-21), and that you will know if it is from God if the prophecy comes true (Deut. 18:22). Paul tells Timothy what to do if he gets a prophecy from God, "I am giving you this command in keeping with the prophecies once made about you, so that by recalling them you may fight the battle well" (1 Tim. 1:18). If you get a prophecy, write it down, dwell on it and regularly test whether you are keeping it. Don't just think to yourself, 'that was nice,' and then forget it and look for another one. Run with it.
Still Small Voice.
This is the one that is most common for the majority of Christians. We hear the Holy Spirit speaking to us in whispers that lead us and guide us. It is never through condemnation or by force, but by conviction that it is the right thing to do and with peace. The Book of 1 Kings depicts this beautifully when Elijah seeks the Lord who was about to pass by: A great and powerful wind tore the mountains apart and shattered the rocks before the Lord, but the Lord was not in the wind. After the wind there was an earthquake, but the Lord was not in the earthquake. After the earthquake came a fire, but the Lord was not in the fire. And after the fire came a gentle whisper which is when God spoke. (1 Kings 19:11-12)
His Word.
A few years back I spent 10 months in Thailand working as a missionary. I was having an amazing time and really felt God's hand in what I was doing. I always knew that I was only there for a short time though and when that time was coming to an end, I was torn between whether to go home to New Zealand or stay longer in Thailand. I asked the Lord about it, but didn't get an immediate response. It was not long after that I had to travel out of the country for visa purposes. As always, whenever I travelled I had my Bible in my bag with me. I had it in the same compartment of my bag as the charger for my laptop. When I pulled my Bible out to read it I noticed that the cord had bent a page of my Bible in Ezekiel. I thought that was strange and wondered if I should read Ezekiel. In my Bible reading plan I hadn't got to Ezekiel yet so I didn't do so. A few days later, I went to open my Bible and again, there were some bent-over pages. I was sure I'd flattened them out from before so this looked like the second time it had happened. Once again it was in Ezekiel. This time I started reading Ezekiel. The things I read blew me away.
Such as:
I am sending you to [your own countrymen]. (Ezek. 2:3)
You are not being sent to a people of obscure speech and strange language. (Ezek. 3:5)
Go now to your people…and speak to them.
(Ezek. 3:11)
It was abundantly clear to me that God wanted me to go back to my own country, New Zealand.
Circumstances.
Sometimes we may not get anything clear within us from the Lord. It may not even be anything audible. He may use circumstances to elicit a response from us. God does this with me regularly while shopping. My wife and I will often enter a café for a drink or a bite to eat. Regardless of the time, whenever we arrive, there would be very few customers in the shop (unless it was a hugely popular shop). As soon as we sat down after ordering, almost without fail, the shop will throng with customers. I haven't thought of a response to this yet, but it seems to have happened too often for it to simply be a coincidence.
If you believe that God has spoken to you in one of these ways but are still unsure if it is God speaking to you, what can you do?
Try out the Fellowship Test.
It can be very dangerous to believe that we alone hear from God, or that God doesn't want us to share what he is saying to us with anyone else. Whenever practical we should always test the things we believe God is saying to us. Every Christian should have one or two people around them whom they respect, so that they can test whether what they are hearing is genuinely of God. God can work through all believers to confirm what he has said, regardless of whether they're ordained or not. His words to us will also always match up with his written word. If it does not, then we need to question whether it was from God.