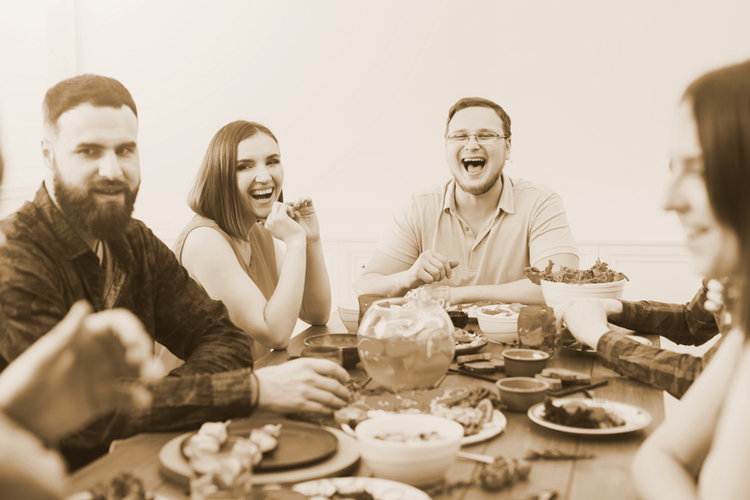 If you have never been a part of a home church, you might be wondering what we do when we meet up. All home churches will be different because they all have different people with different preferences in them, but you will find some things that frequently occur in most home churches.
The gatherings are heavily based on what the early church did as recorded in Acts 2:42:
"[The early church] devoted themselves to the apostles teaching and the fellowship, to the breaking of bread and the prayers."
One of the most common and enjoyable things we do is have a meal (break bread) together.
Eating together breaks down all social barriers because everyone has to eat. It is our way of having a common union (communion) with one another. It is also what Jesus did on the night he was betrayed and what he commanded his followers to do to remember him.
You might be thinking right now that communion is not a meal! It's something that happens at church services and it only lasts a few minutes.
Look at how Paul describes The Lord's Supper in 1 Corinthians 11:23-25:
"For I received from the Lord what I also delivered to you, that the Lord Jesus on the night when he was betrayed took bread, and when he had given thanks, he broke it, and said, "This is my body, which is for you. Do this in remembrance of me." In the same way also he took the cup, after supper, saying, "This cup is the new covenant in my blood. Do this, as often as you drink it, in remembrance of me."
Notice the key words in the passage above, 'after supper'. Why is this included if it wasn't a meal?
Also consider this:
The Hebrew tradition was to start the meal by breaking the bread, then to eat the main course, and then to end the meal with a toast of wine.
Now imagine the following scenario. You invite six friends over for dinner one night. They arrive at 6pm and come in and sit down at the dinner table without saying anything. You serve up one chicken drumstick on the table and carve up a tiny bit for every person sitting there.
You thank God for the food and then take a few moments to remember Jesus and ask everyone to examine themselves to decide whether they're worthy of eating it (1 Cor. 11:27-29). After eating, you then clear the dishes away and have desert, where you serve a small amount of ice cream to everyone in tiny cups.
Each person gets just enough to fill a teaspoon. Then you, again, take a few moments to remember Jesus. After that, everyone immediately leaves.
Sound strange? Your friends would be missing on a great evening of feasting and fellowship if that's all you did. Yet, this is exactly what millions of people around the world are doing at church services when they 'take communion'. This was not how God intended it to be.
God has created his people to enjoy fellowship with one another by eating together.
This is exactly what we do in home church. I love it!