April's dream
Mike and April (with their son, Elijah) were planning to go for a holiday in Samoa.
When April was looking at accommodation in Samoa she saw one resort that reminded her of a dream she had about a year ago. In the dream, she was at this resort but then heard the ground rumbled and saw the ground crumbled towards her. Then, she woke up.
Weeks before the holiday, Mike often saw himself praying for Fijians and sitting in their homes.
So they decided to go to Fiji instead.
Arriving in Fiji
The first few days in Fiji, they simply rested. Then they decided to look for opportunities to share the gospel. While sightseeing, they saw a lady selling fruit and asked if she had any pain or anything to pray about. She said not her, but her husband, who has had a sore back for a while. They prayed over a tissue and told the lady to give it to her husband. They never heard from the lady again.
So they kept walking to the other side of the road and saw a man waiting on the side of the road. Mike asked if he had pain but he didn't. So Mike just talked to him about Jesus.
Lela
Back to the resort, Mike was sitting at the tourism desk and chatted with a lady, Lela, about the Gospel. She said she was a believer. She had been praying and wondering about the baptism of the Holy Spirit and speaking in tongues as she's seen some people do it. So Mike talked to her about water baptism.
Mike preached the same sermon as pastor's prepared sermon
The next day, Mike and April went to a Pentecostal church service, mostly in Fijian language. The visitors were then invited to share. Mike had a clear vision to share about sowing and reaping and the importance of sowing the Gospel. The congregation listened attentively. If you sow money you will reap money but you can't take money to heaven with you. But when you sow into the Kingdom of Heave you will reap eternal fruit. Later, the preacher stood up to preach his prepared sermon in Fijian. Mike and April found out later at lunch that the sermon was also about sowing and reaping.
Healing the waitresses
It is now two days before they were due to leave Fiji. Mike prompted April to ask the waitress, Talia, at the resort whether she had any pain. She said back and shoulder pain. April prayed for her and she went away to carry on with her job.
Few minutes later April saw another waitress limping, her face was really in pain. She had stopped in the hallway unable to move because of the pain. This time, April told Mike to go pray. Mike called for the waitress to come over instead. "Are you in pain?" he asked, "Is your foot sore?" April said, "Mike can pray for you." So Mike prayer for healing. April prompted him to pray for the pain to go as well. Then they told the waitress to try out her foot. She did a stomp! Then looked at them and smiled! Then she stomped a few more times! Mike told her it was Jesus, Jesus. She wasn't limping anymore.
Mike then met Ritah, who had been cooking eggs over the counter for them. She handed the plate of eggs over to Mike but didn't let go of it. She asked, "What are you guys doing?" as she had been watching them pray for the lady who was limping a few minutes ago. She asked Mike if they could go to her house to pray for her husband.
Baptising waitress and husband
Ritah's husband had a stroke and was left with a shoulder pain and could only work two days a month. Mike prayed for his left arm and shoulder and each time the pain decreased.
Ritah explained to them that she goes to the Methodist church. There have been Christians who have come to their house but they couldn't understand what they were saying about the Bible. So Mike explained the Gospel to them through a visual demonstration using cups. This was the first time they had heard the Gospel in this way. Mike told them to be saved and be obedient. Repent, be water baptised and be filled with the Holy Spirit. So both Ritah and her husband wanted to be baptised. Mike baptised the husband first then straight after that Mike asked him to baptise his wife, Ritah.
After the baptism they both received peace and clarity of their eternal destiny. They now know where they're going after death.
Mike prayed for them to receive the Holy Spirit. But he didn't see them speaking in tongues straight away.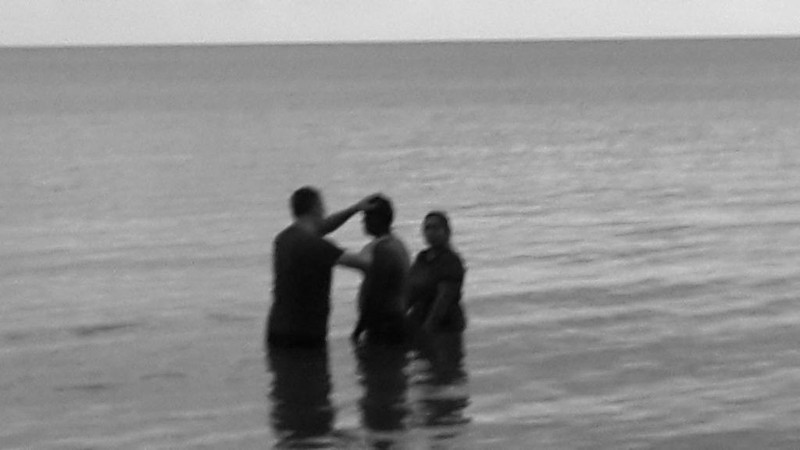 April's massage lady
One day before they were due to leave Fiji, April went for a massage. As she was lying down, she was debating in her mind whether to share the Gospel with the lady, Karish, who was giving her the massage. April wanted to relax so she asked the Lord whether she can just have a break from preaching the Gospel.
Five minutes before the end of the massage, Karish asked April how she has liked Fiji. "I'm so glad I came to Fiji. We were planning to go to Samoa but God warned me in a dream not to go there." Karish grabbed April's hand and said, "You are a blessing to be here!"
She continued to tell April that her husband was in prison in Samoa, serving a really long sentence and it was only his second year. She also had a two year old son. Due to pressure from her family she left Samoa and moved back to Fiji where she was originally from. Her family was Buddhist, Karish was the only Christian. "God is my only strength, please pray for me." Her family had been pressuring her to divorce her husband but she didn't feel that was what God was telling her to do, and she still loved her husband. But just to please her family she sent for divorce papers but her husband never got them.
By this time, April really had to go as her time was up and Karish had another client appointment. She told Karish, "God has heard your prayers. I'll keep praying for you. Don't let go of Him." Then Karish praised God and felt like there was a relief, as if this was the first she had shared this burden with anyone.
Lela's baptism
Later, April saw Lela from the tourism desk. She told her about the baptism that happened last night. Lela was very interested. She has a sister who had been reading the Bible and wanted to be baptised. So she went to the SDA who willingly baptised her. When Lela heard about this she wanted to be baptised too but couldn't find anyone to do it for her.
April explained the Gospel to her. Lela wanted her family and children to be baptised too. So April explained to Lela that once she is baptised she can in turn baptise her own children but also that God deals with us individually. Lela was baptised later that evening and prayed for the infilling of the Holy Spirit too. She was very happy and was thanking God constantly for the new creation.
After Lela's baptism, Mike and April were invited to her house. Days before this, she was shy about showing her house because it was only the size of a shack. But they told her that it was her family, not her house, they wanted to meet. Lela's children sang to Mike and April. However, they were singing songs that had a sorrowful spirit, pleading God to do something. Mike rebuked that spirit and preached the Gospel to them using the chessboard concept, that we no longer need to plead God for anything. That He is more than willing. They were very focused in listening.
All this time, Mike and April's driver had been watching and listening to what had been happening. Though he showed no interest at the time, turned out he was excitedly telling people what he had seen!
The day Mike and April were leaving Fiji
The next day, Lela seemed changed and was happy. She said to April, "I am free to go anywhere now to worship."
April saw Talia again and spoke to her about baptism again. But as they were leaving in two hours they weren't sure whether there would be time to baptise her as Talia was still working. Nevertheless, April encouraged her to get baptised.