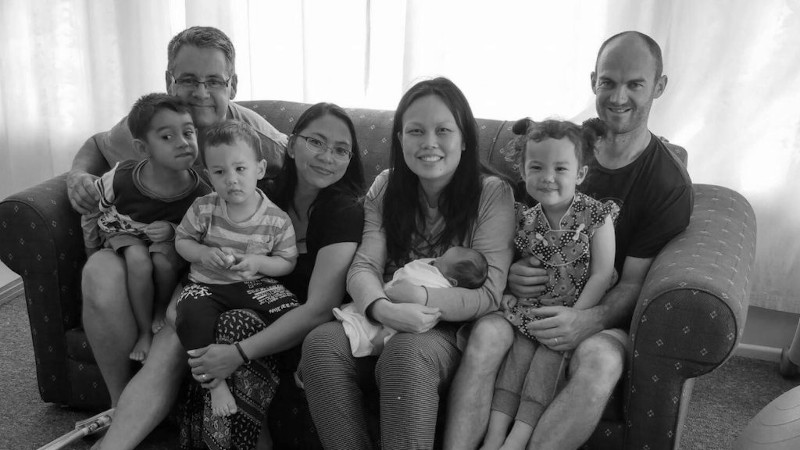 What I Remember
One Saturday evening (6 Jan 2018) we were waiting for our friends Mike and April to arrive at our house. I remember seeing April walking into the house around 7:30pm and asking her whether they'd had dinner.

The next thing I remember is waking up, still very sleepy, and realising I was lying across both the kids' beds in their room, seeing a blurry image of my husband Andrew, and April who was holding my 7-week old baby, looking over me. I heard April say to me, "Irene, you need to feed your baby." I closed my eyes straight after that but felt April trying to latch baby onto me. Then I went back to sleep again.

The next time I woke up I was flinging my arms side to side and groaning as if I was in agony, and I again saw a blurry vision of Andrew in the room, subconsciously thinking maybe he was trying to wake me to move me to our bed to sleep for the night. But I went back to sleep again.
Later, I woke again. This time I was up and had got off the kids beds. I remember seeing Andrew, who must've been in the room, and told him that I needed to go to the toilet. As I was walking there I turned back to check on the kids bed and was surprised to see the kids weren't there. I asked Andrew, "Where's Ethan?" and he said, "They're both sleeping in the lounge." The word 'they' struck me, as I recalled very quickly that I had another child called Hannah. I felt quietly shocked within myself but didn't say anything about that to Andrew. It felt like my brain was very slowly collecting its pieces together.

After going to the toilet, I walked to our bed to lie down for sleep. Andrew followed me into the room and asked if he should get Zoe from April for me. I said yes. I had no idea what time it was or what day it was or how I ended up in the kids room before then. [But when Andrew came in with Zoe I had fallen asleep again, without me realising, and didn't wake for another 2 hours].

After I fed Zoe, I passed her back to Andrew who put her down to sleep, and I went back to sleep again, in the same clothes I had been wearing that day.

For the whole of Sunday (next day), I slept, waking only to feed Zoe every 3 hours and only ate as much as a few spoonful of rice in the evening that day. It felt like my memory was slowly coming back to me. I also found myself physically very sore, as I tried to turn sides in bed. It was as if I had been to an intense workout the day before for the first time in years. I remember later, Mike asking me whether I felt like I had done 7 days of gym in a row. All my joints were aching so much.

On the Monday morning when I woke up and chatted to the others, I slowly gathered information on what had happened to me. I was totally oblivious to what actually happened over the weekend.

What Actually Happened
Shortly after Mike and April had arrived at our house, some time after I asked them whether they had had dinner, I mentioned that I was tired and was going to get ready for bed. I was brushing my teeth in the bathroom when April came in to wash her hands. She asked me a question at the time but I turned around without looking at her and stood outside the bathroom and continued brushing my teeth with my back facing her. She thought it was unusual that I didn't answer her and that I had my back to her, but also thought maybe it was because I was brushing my teeth, so she thought she would ask me again when I went back to join them in the lounge.

But I never went back to the lounge. I had walked into the kids' room and was reading them a book. Andrew heard me and thought that was unusual, as it was an hour after their bedtime and he had already put them to bed. He thought maybe I wanted to keep the kids quiet because Mike and April were here (our children sometimes play up before they eventually fall asleep after they've been put to bed).

Next, they heard an unusual scream from me from the kids' room. Andrew came to check. He found me lying across both the kids' beds having what looked like an epileptic seizure. Both the children were watching and asking what Mama was doing. Andrew stayed calm and began to pray for me immediately. Then he yelled out, "Mike! April!" At first, they didn't come, but just sat in the lounge. A few seconds later, Andrew yelled out again, "Mike! April! Come!" When they both came in, they also immediately started praying for me.

For the next two and a half hours, they took turns always having two people praying for me in the room, while the other looked after Zoe, who was crying by this stage, as she was hungry for her 9:30pm feed and the other children had been moved to the lounge to sleep on the mattress on the floor. It became very obvious that I was being tormented by a demon or possibly demons.

I was thrown into 4-5 seizures, was biting my tongue so hard that I was foaming a lot of blood from my mouth. They had to get a towel to put under me to catch the blood. In between the seizures my face turned grey and blue, as if I was dead. I had no movement/strength on my left hand. At one point April held up my right hand and asked me to squeeze her hand, which I apparently did but with very little strength at all. A few times she told me to look at her, which I apparently did, but with very evil looking eyes. They worked out pretty quickly that it wasn't me looking through those eyes.

This whole time they commanded any unclean spirit to leave me and to stop tormenting me. Andrew told me later that he was prepared to keep going until he saw me set free, that there could only be one outcome. They eventually stopped praying when it became clear that I was coherent enough to respond to basic questions and my movements were normal so they let me sleep.

Feeding Baby Zoe
At around midnight while I was sleeping, Mike, April and Andrew were trying to figure out how to feed baby Zoe. She had missed her 9:30pm feed completely and she was now sleeping. They weren't sure when I was going to be able to feed her so thought of other alternatives. Unfortunately, the only shops that are open 24 hours in Tokoroa are petrol stations. Mike was prepared to take a 2 hour road trip to Hamilton to get some formula. Andrew said that it wouldn't be necessary as I had recovered well over the last half hour that I should be ok to feed in an hour or so. Fortunately, that turned out to be exactly what happened.

Trying to Fill in the Blanks
Over the next few days, each time I learned about something that happened that night I couldn't help but cry, as I was feeling totally confused as to why I couldn't remember anything. I kept saying, "It was as if I wasn't there." Mike comforted me by saying that although we don't dwell on what had happened, I had been traumatised physically and emotionally, even though I wasn't there consciously. I had to let my body catch up and process what did happen.

The aches in my body took a couple of days to heal. It has now been 10 days and my tongue is still a little bit tender, but at least I can talk properly now. But the trauma in my mind is still a battle to get through each day as I continue to ask God to help me understand the 'whys'.
I also decided to be water baptized on the Monday to get rid of any remaining demons and for Christ to cleanse me of all my sins. April had a word for me that I had unforgiveness towards my parents, which I repented of while standing in the water.

God Answering Mike & April's Prayer from 2 Weeks Earlier
I also found out that Mike & April had a strong urge to pray for me 2 weeks earlier. They had been driving in the car and actually pulled over to pray for me for God to deliver me from any hindrance in my life.

God has also been faithful to answer my questions. He showed me that the demons came through the birth trauma I had with our first baby, which was a 3-day intense labour at the hospital, followed by a blood transfusion after our baby was born, due to a large amount of blood loss.

But also, through me not taking every thought captive, but voicing even the negative thoughts, which eventually gave way to the critical spirit to enter. There were other things like unforgiveness, especially towards my parents. Also, being under their control has made me vulnerable to attacks.

A New Person
After the deliverance and getting over the initial shock, there hasn't been a day when I have gone without praying in tongues, reading the Word and singing in praise and worship to Jesus. I only just realised that I hadn't done these things for a while, maybe even a couple of years. The words in the Bible seem more personal to me, like I'm reading it with new eyes and ears.

Another big thing is that my behavior/attitude as a wife has improved. I used to constantly have critical thoughts towards my husband's actions. For example, whatever he did I would say it was a bad idea. I would always find something wrong with him. 'Why does he do that?' 'What was he thinking?' 'Why doesn't he think about what I would like?' In my mind, he was never good enough.

After my deliverance, these thoughts of complaints still came, but I found myself keeping my mouth shut, not letting those complaints be spoken. Realising now that those critical thoughts about my husband came from the demons, to tempt me to sin. My eyes have open and I see so clearly now that I am so blessed to be married to Andrew. He is more than what I deserve. I find myself more submissive towards him.

My attitude towards raising our children has also relaxed a bit. I didn't even realise I had become so serious about wanting to do a good job with them that there was no more joy left in our family. I had also become so focused on making sure my family ate the right food at all times and keeping ourselves away from bad influences. But Jesus said don't worry about what you eat or drink or wear. In fact, don't even worry about tomorrow. Today has enough worries of its own. I am enjoying my children more and making sure they know I love them, just as God loves us.

Living the True Life
Now, my eyes have opened to focus on the only thing that matters, things of the kingdom of God. That there is an unseen war going on while we are here on earth. That Jesus has provided us the ONLY WAY to win this war. That God DOES love us SO MUCH! More than what we could ever comprehend! My life seems to be without stress. It is so good. Like, I am finally enjoying what God has always wanted for me to enjoy.
Before Mike and April came to our house, they were fellowshipping with a few close friends in Tauranga. As they were leaving, one of them had offered to lend them this book by Derek Prince called 'They Shall Expel Demons.' Initially, Mike turned it down as he wasn't a reader, but at the last minute, April said to him, "Mike, are you not gonna take the book?" So they brought the book to our house and I have been the one reading it. It has answered a lot of my questions since the "spontaneous" deliverance.
How Do Demons Enter?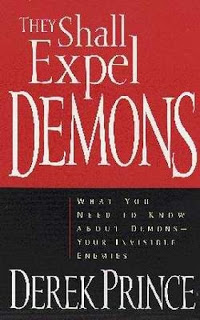 Derek Prince wrote about how a lot of born-again believers actually need deliverance from demons, but don't get the help they need because the majority of Christians do not believe that born-again believers can be demonised. Demons could either have been there before someone is born-again or they could enter even AFTER salvation and baptism. Most people have demons they don't even know about, such as was my case. Demons like to conceal their existence. It is impossible for me to cover all about demons here, but here is a very brief list (found in Prince's book) of how demons can come in:
A family background in the occult or false religions
Other negative prenatal influences
Pressures in early childhood
Emotional shock or sustained emotional pressure
Sinful acts or habits
Laying on of hands
Idle words
Since the birth trauma, four years ago, it was a slow, gradual influence by the demons, who first put thoughts into my head and made them sound like they were my thoughts. Then, one day, my actions started to follow these thoughts and that's when they successfully overcame me. Even though I had been a Christian for nearly 10 years before then and was filled with the Holy Spirit. Yes, it is possible for a Spirit-filled Christian to also be demonised.
The Continuous Battle but This Time With Armour On
Everyday since the deliverance I have had thoughts tempting me to deny that the deliverance ever took place, especially since I was not aware of it happening. So putting this together has been a challenge but has helped me tremendously in terms of processing what happened. I have had many temptations to be critical again but recognized straight away those thoughts are not God's will for my life. I have also been plagued with the fear of demons, that I would be scared having to get up to feed Zoe in the middle of the night. But each time I feel fear I say out loud "God has not given me a spirit of fear but of power, love and sound mind!" (2 Tim 1:7)
Each time I have stayed faithful to Jesus, I feel He strengthens me more. I stay faithful by abiding in Him at all times. When I'm not with anyone, I make sure my mind and mouth are not idle. When those critical thoughts come into my mind, instead of yielding to them, they now serve as a reminder for me to start praying in tongues or turn some worship music on. If those were critical thoughts towards a particular person, instead of voicing them (which I see now is no different to gossip), I would ask God to bless that person instead. It is so awesome.
Though I still feel a heaviness over me, I know that the demons are on the outside of me just trying to get back in. God says to resist the devil and he will flee from you. Jesus resisted the devil by saying, "It is written…" which shows me I really need to know my Scriptures too. Those are the weapons of my warfare.

I know this testimony may have been a shock to read for some of you who know me. We wanted to share it because we know there are many more of you, our friends, out there who may need deliverance too. We can help you. Please talk to one of us.

My final word has to be, GOD IS SOOOO GOOD! WE LOVE HIM, OUR FAITHFUL JESUS!