Day 7: The next day we got on another bus to our next destination which was near a city called Hetauda. The people here seemed very excited about seeing us and prepared an amazing room for us to sleep in. We had 4 days to wait before the next kickstart started so we had some time to get to know the locals. There were 2 young ladies called 'Cushna' and 'Rose' who had been put in charge of looking after us and they spoke really good English, so it was good for us to have people to disciple who understood us. We went for a walk around the village with them and ended up going to a house where a lady was very sick. She was nearly 3 months pregnant and hadn't been able to keep any food down since she got pregnant. She was very weak and could barely leave her bed. We prayed for her and came against any evil spirits that were affecting her. After praying for her for around 5 minutes we encouraged her to eat something. She was able to eat a bowl full of noodles without vomiting which she couldn't do beforehand. After she ate, she confessed that she had seen a spirit in her room in the past. She is a believer, so we told her how that spirit has no right to be there and that she needs to tell it to go in Jesus' name if it ever came back.

By the time we finished praying for her, other people had joined us in the house and two older ladies wanted prayer for various sicknesses. We asked Cushna and Rose if they would pray for healing and they were keen. We told them clearly that they didn't need to pray long. We are commanding, not asking. They did well and both of the ladies were healed. Unfortunately at every other place we went to they were in the habit of praying looooong prayers. Even after we tell them how to pray and show them how to pray, they still prayed for a long time. It was incredibly frustrating.

Day 8: We did a bit of shopping in town and then went to a village where we spoke to some believers in a house. We gave them a brief introduction to our teaching and offered to pray for people there. Two people had sore joints and so we got Cushna and Rose to pray for them and they were healed. After that we asked if anyone else needed prayer. One man said he felt angry when we were speaking. As soon as we started to pray for him he started to shake uncontrollably under the influence of a demon. We told the demon to go and it did within a few minutes. Another man had a stutter. When we spoke freedom over him he also started to shake a lot. We commanded the demon to go but this one took a bit longer to go. After around 10-15 minutes the man started to calm down a bit and felt peaceful.
Later that night we went to a house fellowship in the dark. We were walking with a group of around 12 people and as we were walking past one house, a man from inside asked if we could help with his daughter because she has an evil spirit. I thought we were going to talk to some other believers but when we got there I realised the family were all non-believers. They were just so desperate to see their daughter set free so they asked the first people they saw walking past.

The first thing she did when we got there was roll around on the ground and then put her own hand to her throat to try to choke herself. I could understand now how the family knew it was an evil spirit even without knowing anything about Jesus or God. Mike asked the family if they wanted Jesus to help their daughter and they said yes. So the four of us (Mike, Harry, Marduk the interpreter and myself) got to work commanding the demon to go in the name of Jesus. For about 1 minute the girl writhed around on the floor then stopped. I stopped praying when I saw this but Mike, Harry and Marduk kept going for another few minutes. I guess after the last demon we cast out we were expecting a long battle. When you see someone try to choke themselves you don't expect an easy fight! Then the girl looked up with a big smile on her face and you could see that she was free.

We were getting late to the house fellowship so Mike, Harry and Marduk stayed with the girl and her family to share the gospel and I went to the house fellowship so they could start. They sung a few songs and then gave us time to speak so Harry did after finishing up at the other house.

Day 9: We went to another village and again gave an introduction of our teaching. Again we went to a house fellowship that night. This time we were in a different home. They meet up every night (apart from weekends) in a different home each night. This time Harry stayed behind so I shared a brief message on how house fellowship is just as much church as going to a weekend service. The lady from last night who was set free from a demon came along with her husband so Mike shared the gospel with them again. At the end we prayed for them to receive the Holy Spirit but nothing happened at the time. I think the house fellowships only meet up for a short time and we had taken so long to share the gospel that everyone was restless about getting home.

Day 10: On our final day before the kickstart was due to begin we did some shopping again. Then we went to another house fellowship in the evening which was uneventful.

Day 11: First day of kickstart. Mike's wife was sick, I found out that my car windscreen was cracked and we don't have insurance, so it would cost a lot to fix and Harry was feeling discouraged. We prayed together before we started and felt a lot better. Harry took 'Christian or disciple' again, I took 'Luke 10' and Mike took 'the gospel.' It was a long day of teaching but there was not much interaction with the people there. We visited the pregnant lady who we prayed for earlier. She was looking much healthier. She was still throwing up after food but not as bad as before. I also had a good chat with one of the pastors there who doesn't get paid for being a pastor, he encourages all believers to pray and loves house fellowships.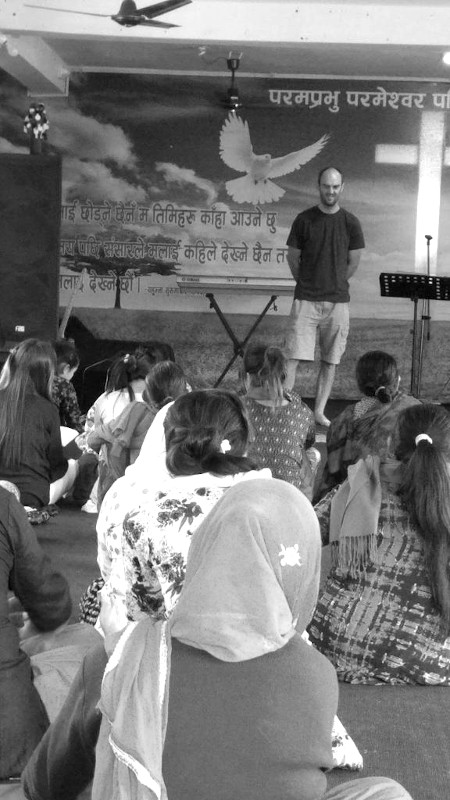 Day 12: Second day of kickstart. Mike finished speaking on the gospel and I talked on healing the sick. When I asked if anyone needed prayer, the first lady that came forward complained of having seizures. Everyone was watching this so I explained that the seizures were caused by an evil spirit. I told them the evil spirit has no right to be there and that Jesus has all authority. I said that they could help too by praying in their language. Then I told the lady to relax and started commanding the demon to leave. Normally in these situations I seem completely confident on the outside but inside I am thinking about all sorts of excuses. This time was no different and I was thinking, 'Mike's not here! I can't do this by myself!' Mike had gone off somewhere while I was teaching. I quickly realised that was a fleshly excuse, so I took that thought captive and continued destroying the works of the evil one in this lady. Harry was there, so he helped. It only took a few seconds before the lady fell back and started shaking on the ground just like the lady from the night before. Again, it only took a minute or so for the demon to leave and the lady to stop shaking. I asked her if she felt alright and she said she felt fine. I normally encourage the person to have some food or water after a deliverance. This is just because it is something normal they can do after a very unusual experience so it helps to calm them down. I'm not sure if I did it in this case. Either way, she didn't seem perturbed by what had happened and had a big smile on her face.

After that we carried on with getting all the believers to pray for each other for healing while we wandered around getting involved where we were needed. It wasn't long before another lady started showing signs of having a demon. She started shaking a bit and then hitting the ground with her hands and saying something in Nepali. I asked the interpreter what she was saying. It was, "I'm not coming out!" I started helping them with commanding the demon to go. After a few minutes she started rolling round on the floor, hitting the ground with her hands or flinging her arms wildly from side to side. The lady was responsive the whole time and the demon didn't seem to be going anywhere no matter what we did. I commanded it to go for about 15 minutes but there was no change. Everyone there was focused on what was happening so I knew it had to stop. I have heard of some people talking with demons but I wasn't sure about that. The only time Jesus ever asked a demon a question was when he asked the demon's name. I thought I'd try that. I asked the demon (through the interpreter what it's name was). The lady responded and I found out it's name was Anita. So I said, "Spirit of Anita, come out!" Straight away she coughed, and I felt quite proud of myself that something happened. Then it clicked that maybe Anita was the ladies name because she was still hitting the ground after that…

I felt a bit foolish after that but there was no time for self-pity because the lady (Anita…) needed to be set free. I tried a different approach. Instead of asking the demon, I thought I'd just ask God. It had always helped in the past so I asked God, "What is happening here?" Immediately a thought came into my head, 'witchcraft.' I asked Anita if she had been involved in witchcraft because I thought she might need to repent of something but she said no. Then she said her Father is. Now we were getting somewhere. I still didn't know what to do about this demon so I spoke with God again, "ok, I know it's witchcraft now. How do I cast it out?" Then again a thought came to me, 'worship.' At the time there were about 15 people all around us praying in Nepali, so I asked the pastor there to get them to sing a worship song. They sung a beautiful song and the demon left before they were finished. Then we had a break for some lunch.
After lunch we decided to finish the teaching that day so we could spend the whole day out the next day. I did a quick debrief on what had happened with the demons and how all believers are commanded to cast them out. I also took some questions. One of them said that we need to make sure we have prayed a lot before preparing to cast out demons. I told them that praying continually is good, but we don't need to be 'prayed up' before we can cast out demons. We can do it any time.

That night we went to another house fellowship and had a beautiful time worshipping with them.

Day 13: On the streets. We split into 4 groups and went into different areas. Each group had at least 10 people. In New Zealand if you approach someone with 10 people they may be overwhelmed but in Nepal it is normal for a big group of people to gather whenever something interesting is happening. Most people have nothing to do during the day so are happy to have people to talk to.

The area I went to is one that has been reached a lot in the past by Christians. The people we talked to were either church-going believers or completely against Christianity and not willing for us to pray for them. A lot of them seemed to be Hindu priests. One of the believers we talked to had a sore back so I got one of the group to pray for her and she was healed. The lady had a son who was deaf and mute so we spent about 10 minutes praying for him to speak properly. By the end his voice box was clearing slightly but he still couldn't talk. I wanted to keep praying for him but my group wanted to carry on.

Overall it was pretty unexciting because we either got an immediate 'no,' or they were believers who were healthy. I did manage to have a good chat with some of the group and disciple them as we were walking.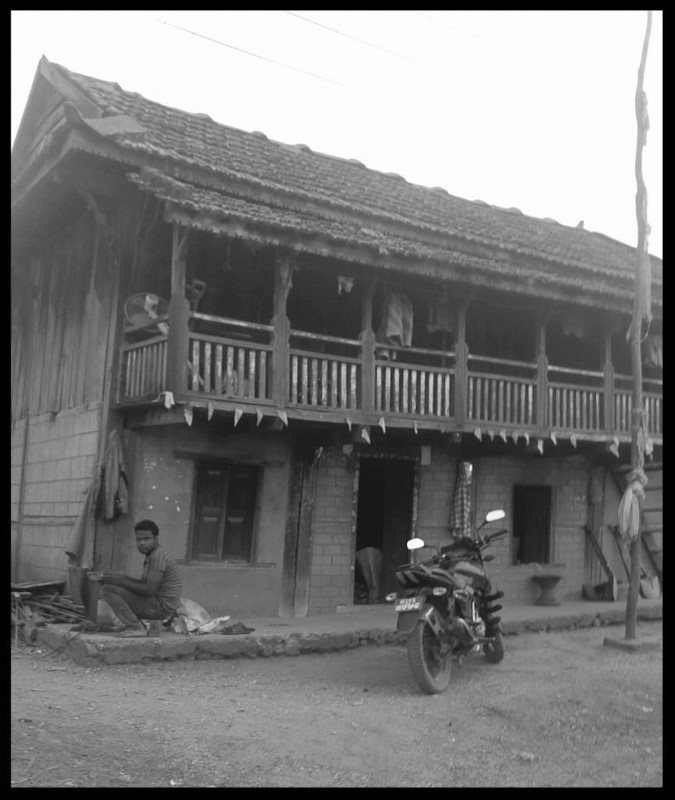 At the end of the seminar they thanked us and gave us a 'token of love'. That is basically a plaque with the words 'Token of love' on it including the name of the church.
That night we had dinner with some of the older generation who shared some of the persecution they had suffered as the first believers from Nepal. I can't remember the full details but I know that the man we spoke to was imprisoned for his faith.

Day 14: Church service. Mike and I attended one church service where we thought we would be speaking while Harry and Marduk went to another service. What followed was 2 ½ hours of the most joy sapping religion that you could ever imagine. I couldn't understand a word of what was happening so I just observed peoples body language. It was clear that no one wanted to be there. It was a very typical service: singing followed by an offering, a boring sermon followed by another offering, then some more music to finish. The only joy in the whole service was a 5-minute cultural dance put on by some of the local girls. We didn't end up speaking and the pastor informed us that his message was on Matthew 24:4:

"Jesus answered: "Watch out that no one deceives you."

He clearly wasn't happy with what we had talked about. We had a few run-ins with him during the kickstart and realised he was full on into tradition and I believe he was a wolf in sheeps clothing stifling this particular church. Ironically, in his message, the wolf in disguise was telling the sheep to be wary of what we were teaching them. The fruit of his teaching was evident after dinner when one lady asked us to pray for her because she was in pain. We asked her where she was sore and she told us that her whole body was sore because she had spent the whole day sifting sand and gravel to make cement to build a wall to separate the church from the house next door. I couldn't believe that she was allowed/convinced by the leaders that this was a good use of her God-given talents and time.