Day 15: Travel to Bharatpur. Our next location was a long bus ride away and we were saying goodbye to Marduk halfway there at a place called Bharatpur. We got off the bus and had some lunch at a restaurant/hotel. While we were eating Harry announced that he was the leader of the trip and so we had to listen to what he had to say next. Then he told us that he didn't want us with him if we were going to encourage people to meet in homes instead of in traditional churches. He said that we were there to run kickstart seminars, not to add on our own teachings. I tried to explain to him that it is not our teachings but from the book of Acts but he wasn't interested. He told us that the only way we could continue teaching the kickstarts is if we stopped talking about home church. Mike and I told him that we weren't prepared to do that so we decided to part company.

We booked in to a hotel and tried to figure out what to do next. While we were there I went to thelastreformation.com where the kickstart teachings came from and read what they believe the reformation will look like:

'A reformation that will go deeper than any reformation before: away from wrong church traditions, and creating an understanding that church is who we as believers are, not where we go to on Sunday. We believe that with this reformation, we will go back to what we read in the Acts: A simple disciple-life led by the Holy Spirit, where the kingdom of God comes near in homes, on the streets, in shops – yes, all places where people are.'

Something didn't line up with what happened. It became obvious that Harry was unhappy with us and wanted to get rid of us. He had never mentioned anything to us before so we were caught unaware but felt at peace after he left. We relaxed in the hotel while we thought about what we could do. We quickly realised that we needed a good interpreter with whatever we planned. We went for a wander around the city for a while with no real destination and ended up at a café for dinner. We asked the waiter if anyone spoke English and he said his boss was coming. When the boss turned up he spoke great English and actually taught English at a local college. When we said we were looking for sick people to pray for and an interpreter, he told us that he was busy but might be able to send us one of his students to help us! He was not a Christian but he was happy to help us out. We also got a phone call from 'Tom', the pastor where we were due to run the next kickstart. He was disappointed that only 1 person had turned up when they were expecting 3 and that they had been praying for the kickstart for 6 months. He wanted us to catch the next bus but I told him that he would have to run it past Harry.

Day 16: In the morning I spoke with Harry again but there was no way he wanted us with him. At least that meant that door was closed for us so I went to meet with the café owner in the morning to organise some sort of outreach. When I got there, the café owner had called a Christian friend of his who regularly goes to visit mentally unwell people in rural villages. The man was willing to take us to the villages so we could pray. As I was talking with him I received another phone call from Tom, who told us about his brother, 'Martin' who was also a pastor and we could run a kickstart at one of his villages. We would have to leave that day to meet with him. I said we would do that and apologised to the café owner but promised that I would call him back when we came back through. So we got on the next bus to a town called Butwal and met Martin. He is an amazing man who forced his pastor to baptise him because he was so keen to follow God. He has also taken in approximately 20 orphans into his home and clothed and fed them out of his own pocket.

Day 17: Rest day in Butwal. Good to rest as Mike and I were actually really tired. Travelled to village where we would take the kickstart.

Day 18: First day of kickstart in village. Good day of teaching with Martin translating. Mike took 'Christian or disciple' then I took 'Luke 10'. All the villagers know a lot about harvesting because the fields were all being prepared so I asked them to teach me about it. I asked about preparing the soil, planting the seeds and watering the ground. Then I acted foolishly when it came to harvesting and asked them whether we yell out from the edge of the field for the harvest to come in. They all laughed at me. Then I asked whether sweeping the barn would help. Again, they all laughed. Then I asked whether music would help and pointed at the instruments on stage behind me. No one was laughing after that. Martin even stopped interpreting for a while and I had to repeat a few sentences. Mike shared 'the gospel' after that and got everybody to practise with each other.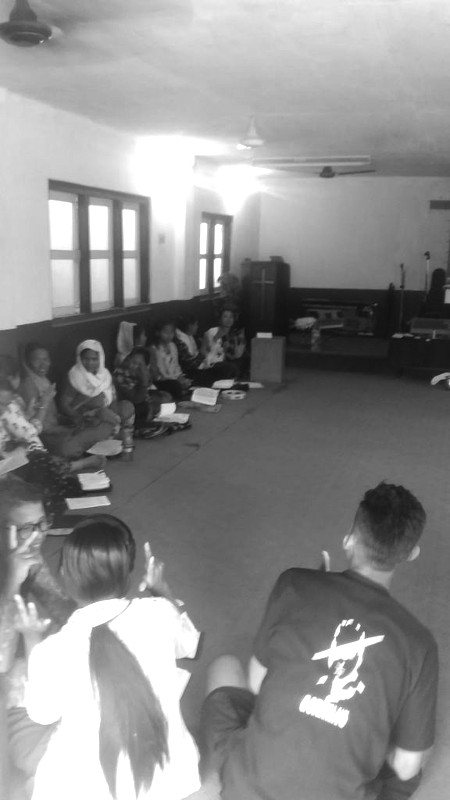 Day 19: Second day of kickstart in village. I had the runs all morning. Ironically, I was supposed to speak on 'healing the sick.' I was not in any pain but I couldn't stray far from the toilet. One person asked me if I needed a doctor but I just laughed and said that I would be fine.

We prayed for one lady who had a fever and immediately lay down when she came in. After praying for her for around 5 minutes she was able to sit up and drink some water. Some people there prayed for her some more and after around half an hour she was able to listen to the teaching. We found out later that she saw a ghost hand reaching into her home which wouldn't go away unless she put some food on it. We encouraged her to tell it to go in Jesus' name if it ever came back.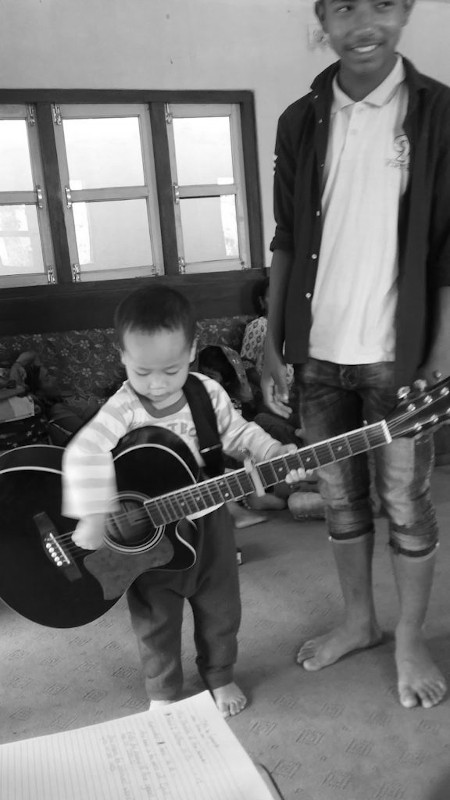 We went out to the local villages after this to find people to pray for. We didn't talk to many people and I could sense my group wasn't really interested in approaching anyone. We seemed to keep walking past village and houses. After a while I understood why. They were taking me to their newest church building that was half built. There was an amazing story about how it all started. The pastor of the church prayed for a lady who had been sick for years and she had spent a lot of time and money trying to get healed. When the pastor prayed for her she was healed. The husband of the woman gave some of his land to the pastor so he could build a church there so that his wife and the locals didn't have to walk 7 km's to get to the other church. This church was now focusing a lot of energy and resources into building a place for these people to worship together.

I saw Martin hand over a lot of money to the builders so that the work could continue on the building. When I saw this I had to walk away in disgust. I couldn't help but think that this money could have been used in much more effective ways. The pastor had started out preaching the gospel and healing people but it had all stopped because now they were focusing on a building. Didn't they have perfectly good homes they could meet in? I had attended a house fellowship in the last village where 40 people gathered together outside to sit on mats and worship God. There was so much joy there. These beautiful believers had been taught that to follow Jesus is to build a building and invite people there, rather than to listen to Jesus who said to 'Go and preach the gospel.' How many other people have been caught up in the same trap?

I was fuming on the walk back home. The 7 km walk gave me a good chance to get my heart right. I realised the people there had a heart for the kingdom of God. They genuinely wanted to see more people worshipping God but their focus was on the building, not the people.
That evening we travelled back to Butwal and had a good chat with Martin about focusing on people rather than buildings.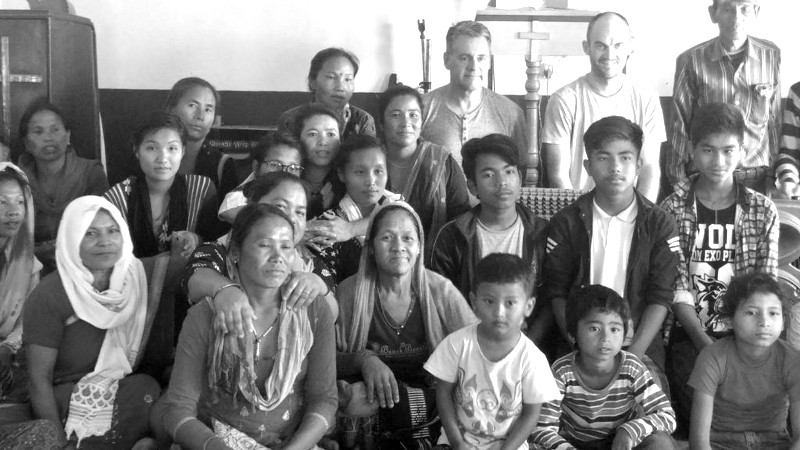 Day 20: Rest at Butwal. It was Mike's turn to get the runs. I prayed for him but I think he needed some rest. I went with Martin on his motorbike to pray for an old lady who couldn't move from her bed. She had to be helped up to go to the toilet. I prayed for her for around 30 minutes but nothing happened.

Then Martin took me to a prayer meeting. There were about 15 people there all sharing their prayer needs one by one in Nepali and Martin didn't translate so I had no idea what was happening. When it came to my turn I just gave a brief introduction of myself and what I was doing and requested prayer for strengthened faith. After everyone had shared, they had a communal time of prayer. Some of the older ladies requested prayer for various pains in their body so Martin told me I could pray for them. A lot of them had sore knees or stomachs. I asked some of the younger ladies if they would like to pray and gave a quick example of how they should pray. It was a struggle to get them to pray short commanding prayers instead of long pleading prayers. In the end I had to do a lot of the praying, just so the ladies could get their healing.

As I was about to go one man came up to me and told me that he was always afraid. I asked him a few questions and it seemed like he had a spirit of fear. I prayed for him and came against the spirit of fear and any other unclean spirits that shouldn't have been there. After about 1 ½ minutes of this nothing seemed to be happening so I got my interpreter to ask the man what was happening. The interpreter took one look at his face and didn't say anything. The man was not moving but looked like he was struggling to keep something in. It almost looked like he was trying not to fart. It would have been comical except that I recognised that it was the demon. I spoke freedom over the man and told the demon to go. It didn't want to go but I kept commanding it to for the next 5 minutes. The Nepali people that were left were joining in with me. One of the ladies started jumping from one foot to the next and clapping her hands together. I remember looking at her with a quizzical look and motioning for her to stop. At least it wasn't as bad as what happened in the last village where Cushna whacked Anita over the head with her Bible when we were halfway through casting the demon out…
A few minutes later the man was free and felt peace. I encouraged him to resist any fearful thoughts that come along in the future and come against the schemes of the devil in Jesus' name.

The rest of the day was uneventful.

Day 21: Butwal church service. Martin asked if Mike and I would speak at the church service the next day. Normally I'm not that keen on church services but Martin was such a strong man in faith that I didn't want to say no to him. I had 30 minutes to summarise kickstart seminar. I shared scriptures about how the gospel comes in word and power. If we only share one of those, we are only presenting half a message. I shared how all believers need to be in the harvest field. Then I taught them how they could share the gospel in word and demonstrated the gospel in power.

After the service the people seemed more interested in organising their Easter Sunday picnic than discussing anything I had said. No matter. Hopefully God will use that in some way.
Later that day we shouted Martin and 5 of his orphan children dinner and had a good chat with Martin about the best use of resources in Nepal. He has planted many churches here and realises that having a building empty for 6 days of the week is not efficient. With some of the church buildings he has built he has added a couple of rooms for orphans or widows to sleep in.