Day 22: We travelled back to Bharatpur to re-connect with the café owner. The bus ride took around 5 hours so it was a good chance to pray in tongues under my breath. When we got to the motel Mike was feeling terrible. He said he had a fever and asked me to pray for him so I told the fever to leave him then ordered some dinner. He told me afterwards that he felt like something left him when I said that and he started to feel better.
Day 23: Met the café owner at 7am at the café to discuss plans for the day. We had plans to go to a village that was around 10km's away. We needed two motorbikes and 2 drivers for that so we were waiting for one man to turn up to drive us there. We were waiting for so long that by 9am we decided to take a rickshaw to a local village that the café owner knew of to pray for some people. One of the locals was a strong believer and spoke fluent English. He had no plans that day so he became our interpreter.
One old man had heart problems and the doctors weren't prepared to operate on him because of his age. We prayed for him. There was no discernible difference, but we believe that something happens every time we pray so we believed he would recover. There were about 6-7 people at the house. Some were believers but not all so Mike shared the gospel with them using our new-found interpreter. Mike was taking a long time and our driver was waiting for us at the café so I left to meet up with him and left Mike to continue sharing.
At the café, the man had got tired of waiting for us so had long gone. I sat down at the café again and waited for Mike to show up. Mike had an amazing testimony when he turned up. The interpreter, Bikash, offered Mike a ride to the café but had little to no petrol in his motorbike. He stopped at the petrol station to fill it up but had no money and Mike only had a few rupees on him (a few cents in $NZ). He used that up on petrol and hoped they would get to the café. As they were travelling, Mike clearly heard a voice say to him, 'check your zip pocket.' He tapped Bikash on the shoulder and told him to pull over. He looked in his back pocket and there was 1,000 rupees (about $12NZ). This was enough to fill up Bikash's motorbike. It was clear that God wanted us to speak at the village.
When Mike got to the café, the man who had left because he didn't want to wait for us had come back. By now it was around 12pm and I hadn't had much to eat all day. I have done enough fasting in the past that it wasn't worrying me though. We could now travel out to the first village as planned to pray for people.
When we got to the village we started chatting with the locals about various doctrines and beliefs they had been questioning. One thing I always did at a new village was to show them pictures of my family. I believe it helps you to connect with people and shows them that you are a normal person. When I did that at this village, one old man said that my family look Nepali!
One person was wary of false doctrines and asked how they could know if what we were teaching was true. I thought that was a great question and let Mike answer it. He shared the parable that Jesus told about how the wheat and the tares grow together and then shared how there was no way they could know for sure whether we were teaching the truth or not. We encouraged them to ask God and compare what we were saying to scripture. Interestingly the man walked off halfway through Mike's answer. The people that stayed were happy to keep asking questions.
The only other discussion topic I remember is when they asked whether communion is a meal or not. Apparently, some other missionaries had been there recently and shared that it is a meal rather than a religious symbol. We re-iterated that point and encouraged them that whenever they eat together with other believers and remember Jesus, regardless of the venue, they are having communion.
We then prayed for healing for a few of them and taught them to do the same. Some of the people were healed but with some others it was hard to tell if they were healed because they either couldn't test it or were babies. We believe they were in either case.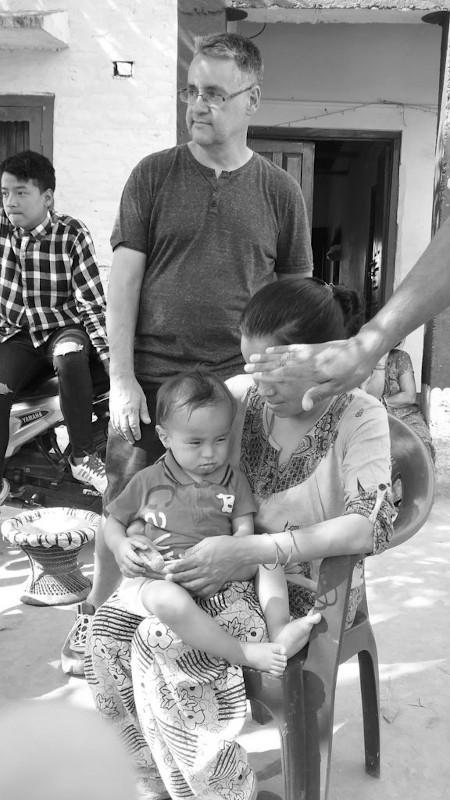 We talked with them also about the baptism in the Holy Spirit. We had noticed in previous villages that the people confused water baptism with Holy Spirit baptism. A lot of people believed they got both at the same time and not many of them spoke in tongues. We asked if any of them wanted to speak in tongues and one man came forward. We prayed for him for a long time but he didn't speak in tongues. As we were praying I felt God say to me that he had unforgiveness that was stopping him receiving. I said this through an interpreter but the man didn't say anything. We asked him later what was happening and he said he felt the presence of God. We also found out that he was the pastor of the church there so it was quite surprising that he would humble himself to allow us to pray for him. I wonder if the humility didn't quite extend to confessing his unforgiveness in front of everyone there. I don't know. God does. We encouraged him to keep asking for himself.

After that we travelled back to the café for some dinner. We had a good chat with Bikash who I felt was a person of peace. After talking with him it became clear that he wasn't baptised in the Holy Spirit because he would always change the subject to worldly matters if we got too deep into Godly ones. It seemed like he had heard some false teachings about speaking in tongues also. We offered to pray for him to receive but he wasn't keen. We did what we could in that village and pray that God will send the increase.

Day 24: Travel to Kathmandu. Martin was going back to Kathmandu to his house there so invited us to come with him. That involved the longest bus ride imaginable. The distance from where we were to Kathmandu was only about 140 km's but it took us around 7 hours to get there. The only highlight was sitting next to a random Nepali person who offered me some of his orange.
When we arrived we had something to eat, did some shopping and booked into a hotel for an early night.

Days 25-28: We didn't have any real plans from then until our flight on day 29 so we just lived like the locals for the last few days. I went for a walk into Kathmandu with Mike, Martin and 2 of his children. 1 of the children was adopted and the other one was his biological son. It was interesting to see the difference between the 2. Martin told me that generally the orphans he picked up had no one at all to look after them. Some of them were only 3 years old when he found them and survived by rummaging through trash. They have gone through a lot of hardships and all of them really appreciated having a loving home. Now they work hard in school and are the top of their class. The biological son was also generally well behaved and the top of his class but could also throw tantrums like a spoiled brat if he didn't get his way. The adopted children would never do that because they know how fortunate they are. It made me wonder about my own children and helped me resolve to show them how other people live in terrible circumstances in the hope that it teaches them compassion for others. I also felt God speak to me about withdrawing some money to give to Martin, especially after I heard that he has taken in approximately 20 orphans and raised them to be effective adults, all out of his own pocket.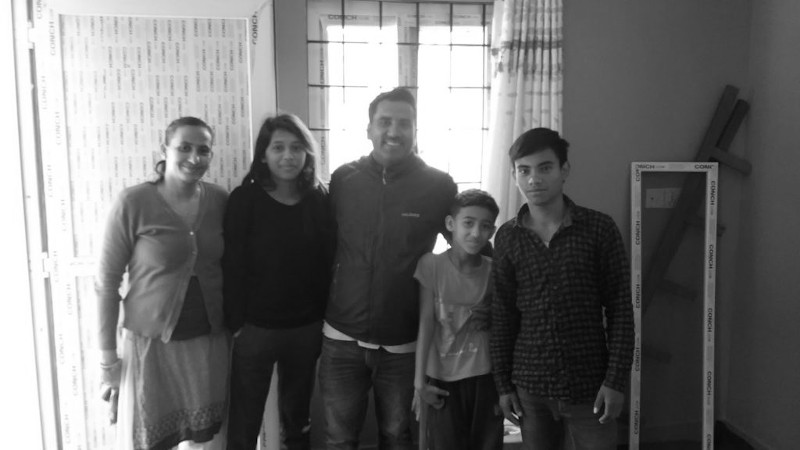 That night we prayed for Martin's wife who had been through brain surgery and still gets pain occasionally. She said she felt better.

Another thing I noticed about living like a Nepali person is that there is not a lot for them to do. Most of the people there also have little to no fixed income. A lot of them open shops to try and make money. The trouble is that most of the shops sell the same things because there are not a lot of commodities in Nepal. Walking down a typical street we would see a restaurant, dairy, greengrocer, butcher, another restaurant, another dairy, a 2-dollar type shop and a clothes shop. Then we would walk down the next street and see the same thing. Most of them have very few customers in a typical day and are very excited to have anyone come into their shop.

Due to not much happening, whenever something exciting does happen, it is not unusual for a crowd to quickly gather. There is no such thing as personal space. There are always people around you everywhere you go. It was certainly different to what I am used to being from a country where I get impatient if I have to cue for more than a minute at the ATM.

On the last night in Kathmandu we walked to the house of a nearby Christian family to pray for them. The husband spoke good English so we had a bit of a chat to him. He wanted prayer for ideas on how to make money. He had recently bought a very nice car using finance from the bank but had no way of making monthly repayments. He said that he bought the car to take his Mother and Mother in law to church on Saturdays because it was a long way for them to go and they were struggling with the public transport. It appeared to be another case of spending a lot of money on something material that God didn't approve of. He could have easily bought a cheap, functional car to do the same job. I tried to talk to him about home church but he had the same glazed over look in his eyes that I see in a lot of Christians who have been going to church for a long time. The idea that you can be a Christian without 'going' to church was completely foreign to him.

We also prayed for healing for a few of his family. I remember watching an old lady (maybe 80) swing her arms round and round like a school girl after I prayed for her. Such faith. She asked how it was possible while she was moving her arms rapidly to test out the prayer.
Overall it was a very interesting trip with many ups and downs. It was great to see a few young people at every kickstart that really got the teaching. It was also great to be able to spend some time with them and explain that following Jesus is not just about buildings, playing on the worship team and praying constantly. It is about doing the things that he did. The highlight of the trip for me was when we cast out a demon and I had clear promptings from God about what to do at each step. I had been praying for God to use me more to cast out demons before I went on this trip and he didn't disappoint.

The annoying part was seeing how the institution known as the church was throttling the life out of believers. Instead of moulding them into disciples of Christ, they were moulding them into obedient little servants who have no free will of their own. Jesus wants the kingdom to expand on this earth but he is limited by religion which tries to control any hint of life. A perfect example of this is when we cast a demon out a lady and shared the gospel with her. She was Hindu and interested in Jesus after being set free so we taught her about repentance, water baptism and receiving the Holy Spirit. I don't know what other Nepali people were saying to her because our message became dress up nicely on Saturdays, come to church, sing a few songs and give some money. It was hard not to become annoyed that the labourers were confined to learning and learning and learning some more, without actually doing any practical work.